St. Patricks Day 2019 - Lisbon & Cascais

Fill your heart with Ireland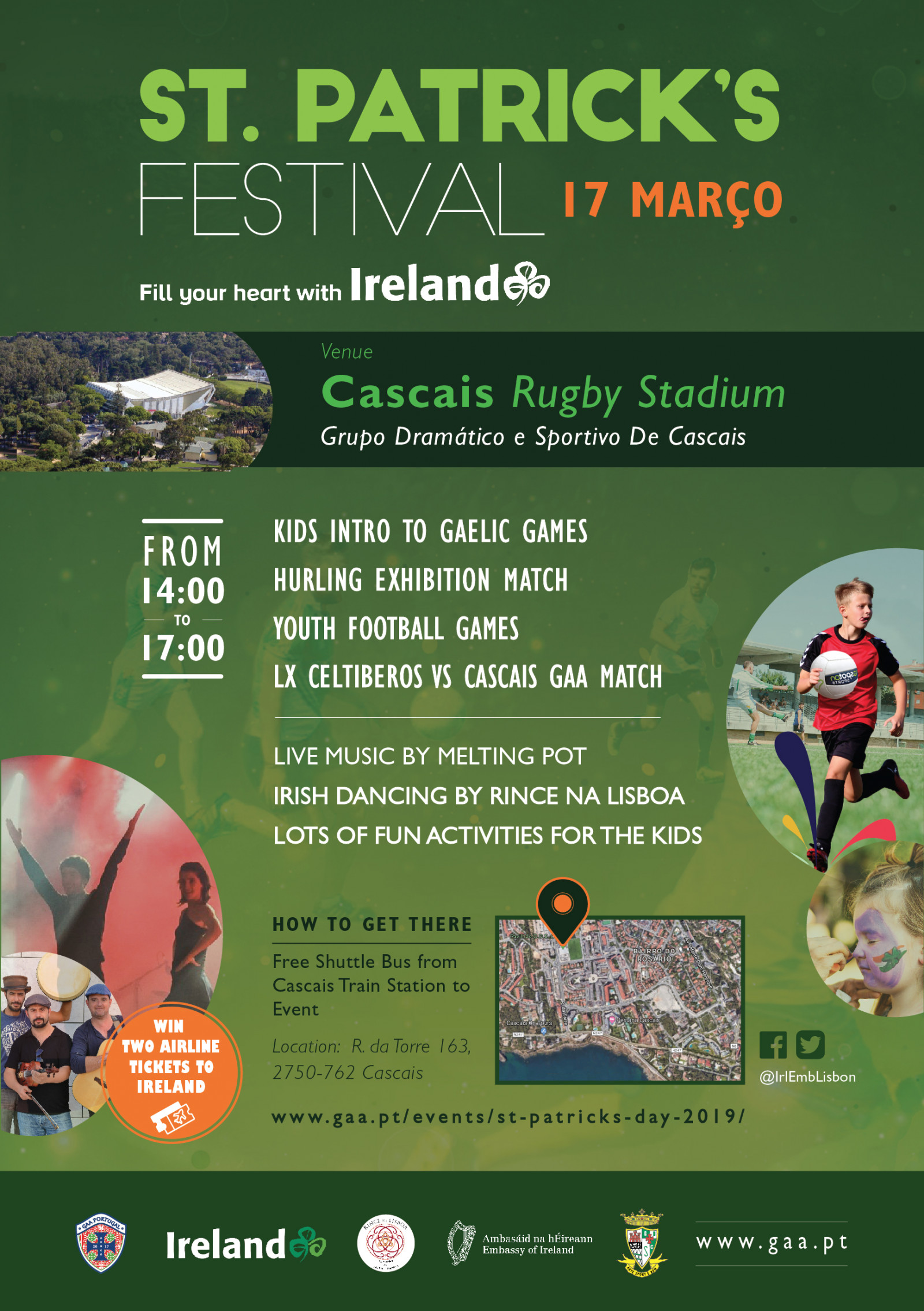 Join us on March 17th, St. Patrick's Day, for a celebration of Irish Culture and Sport from 14h - 17h in Cascais Rugby Club (Grupo Dramático e Sportivo De Cascais)
We will have games for all ages including:
Introduction GAA training for beginners
Poc Fada competition (for those unfamiliar with the game, it's hitting a ball with a stick as far as you can)
an exhibition Hurling match
Youth Football Games
Cascais GAA vs LX Celtiberos (the first match was a tight game with LX Celtiberos taking the honors. Cascais will be hoping that home advantage will make the difference this time. )
There will be live music by Melting Pot, Irish Dancing by Rince Na Lisboa and plenty of fun activities for the kids.
Entrance is Free and open to Everyone
There will be a free shuttle bus from Cascais Train Station to the Event
Want to play? - reserve a space
Everyone is welcome. Entrance is free.
Event Details
Entrance is free and open to everyone.
Join us on March 17th, St. Patrick's Day, for a celebration of Irish Culture and Sport from 14h - 17h in Cascais Rugby Club.
Where: Cascais Rugby Club - Grupo Dramático e Sportivo De Cascais, R. da Torre 163, Cascais, 2750-762, (https://goo.gl/maps/v7qKhsCeaqS2)
When: 1:00pm, 17th March 2019
Price: €0
Book a Place