Lisbon Celtiberos GAA, big achievements in 2022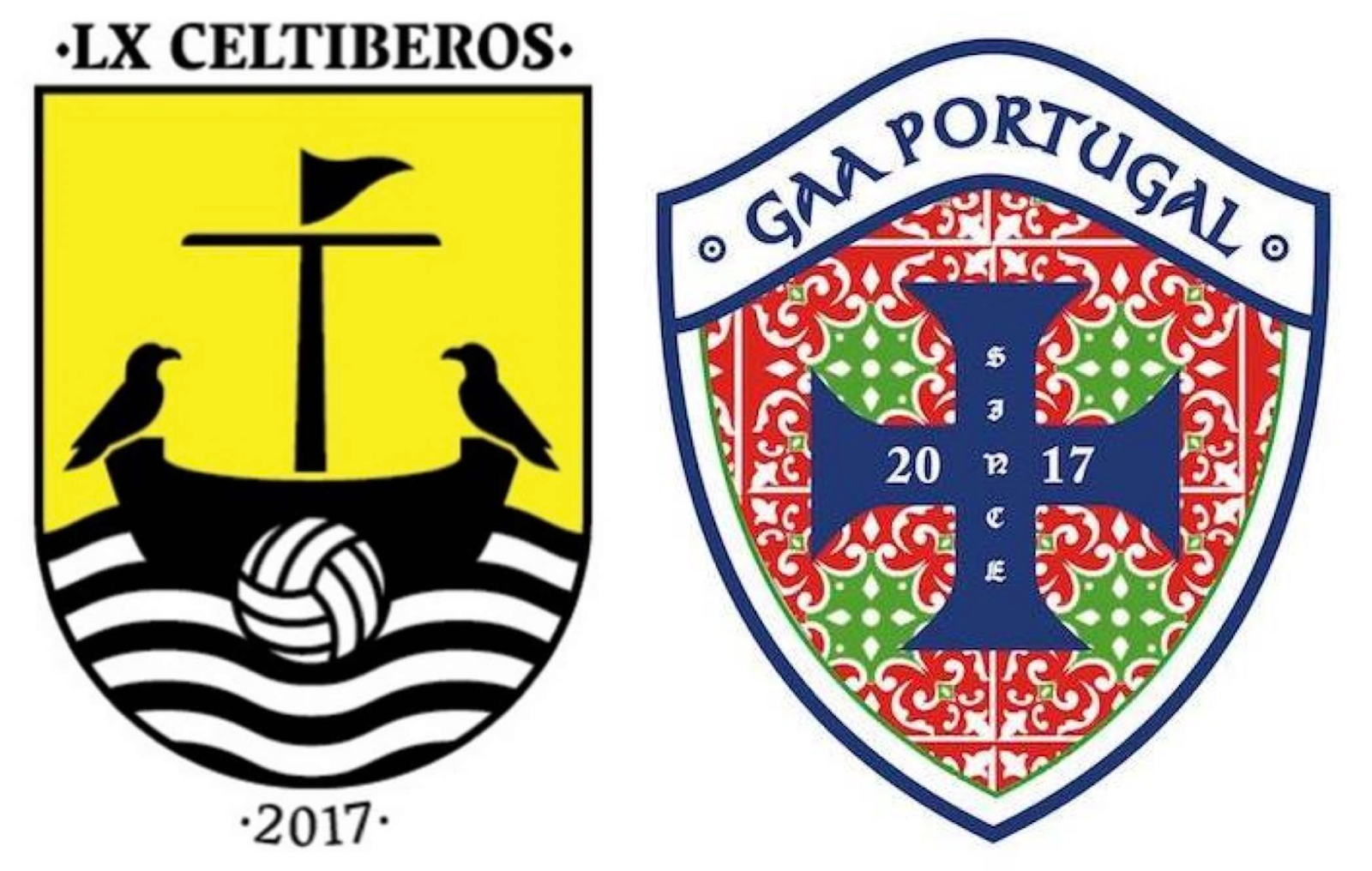 Lisbon Celtiberos & Portugal GAA crests
The year commenced with a fantastic St Patrick's Day event at São Miguel's Rugby Club. In April, Èire Óg Seville, Marbella's Costa Gaels and ourselves played our first friendly tournament in the Algarve. Lisbon hosted the Iberian Shield Final tournament in May. In July we participated in the European Gaelic Football Cup in Galicia, which featured 25 teams from across Europe. In November, our men & women played in the competitive 5 team Gibraltar tournament, which our men won.
2022 has been a really super year for Lisbon and Portugal GAA. We have been building up the club, building the skills, but best of all, we finally got to compete with the big boys and girls.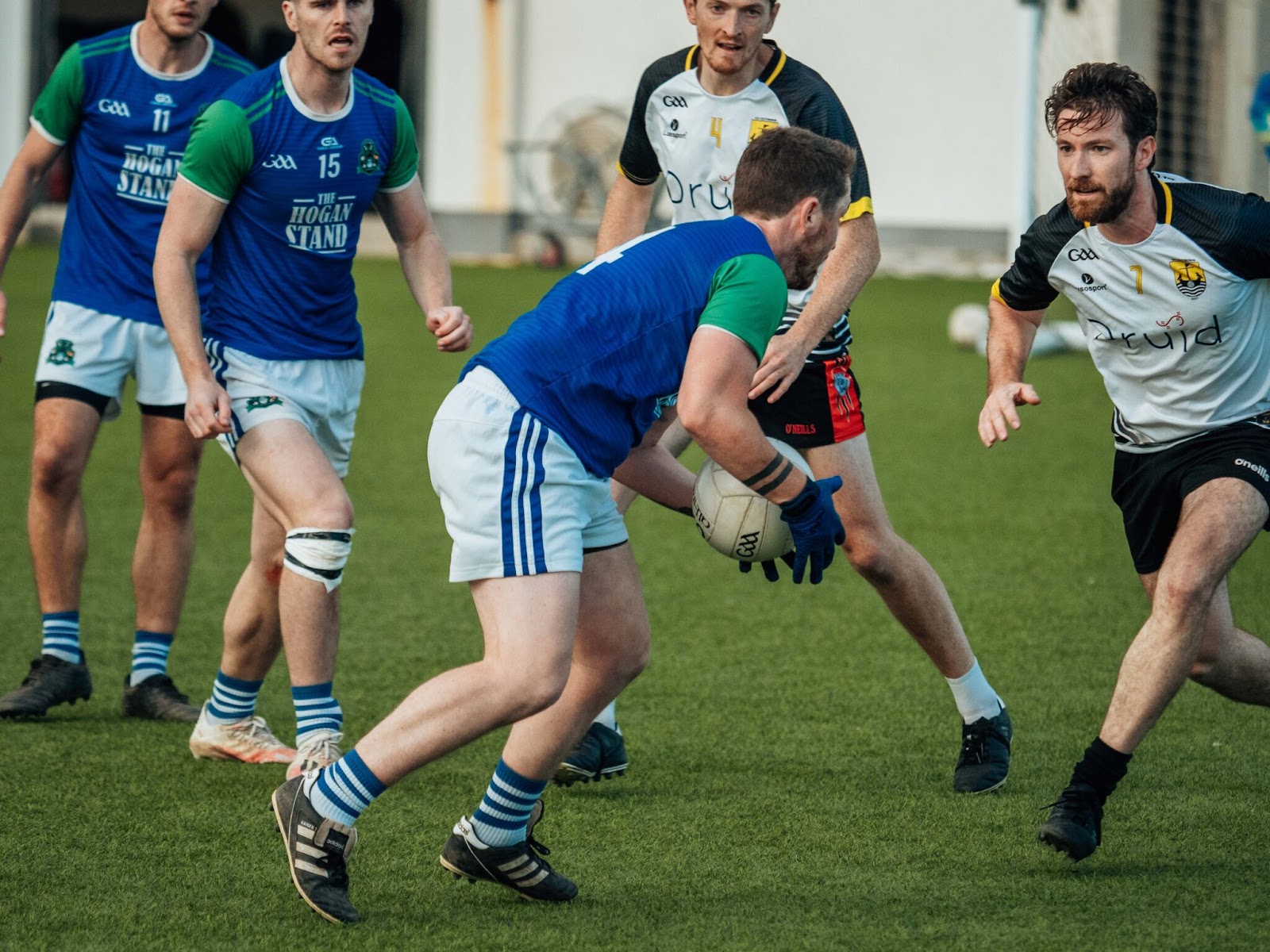 Costa Gaels man closed down by Lisbon's Alan Armstrong in Gibraltar
(photo Abel Rodríguez)
In March, in collaboration with the Irish Embassy in Lisbon, we had an excellent day out for Paddy's Day, with music, dancing, football and hurling. A good couple of hundred people joined us for the day in Green up in the São Miguel's bulldogs rugby ground in Alvalade.
Then in April, we had a 7s men's and women's GAA blitz down in the Algarve, which was super fun. Big thanks to Costa Gaels Gaelic Football Club and the other Iberian teams who have really gone out of their way to bring us into competitive games with the other teams here. That was a tough enough day indeed. Here in Lisbon, men and women train together and we take it handy enough, but in the Algarve we had a tough battle with the men of Costa. The ref saw sense in calling it early and the final match between Costa and Lisbon was declared a draw.
At the end of May, the first official Gaelic Athletic Association event happened in Lisbon, the first Iberian Shield Final tournament. Not quite the Iberian Cup, it's the next best thing, teams travelled from Barcelona, Madrid, Ourense in Galicia and the Costa Gaels again from Marbella. Our lads and lasses battled well and a fine weekend was enjoyed by all. It's even rumoured that one of our Mayo crew, Tully, led a huge #SwinfordShuffle down on Pink Street..
In July, 4 of our men headed to Spain for the European Gaelic Football Cup, which featured 25 teams from across Europe. This fantastic event happened in the Galician coastal town of Pondevedra, where the local GAA story is one of the best anywhere. The Galicians, seeing themselves as Celts, have taken to and made the game their own. They have over 15 men's and women's clubs, with nearly no Irish involvement, just a wild crew of Galegos who love their football and love the craic. So for 3 nights, our men joined an Iberian Club for 2 days of football. All accounts came back glowing: the quality of the football, the hospitality, the beauty of the place and memories made. Hopefully we will get to return to Galicia in 2023.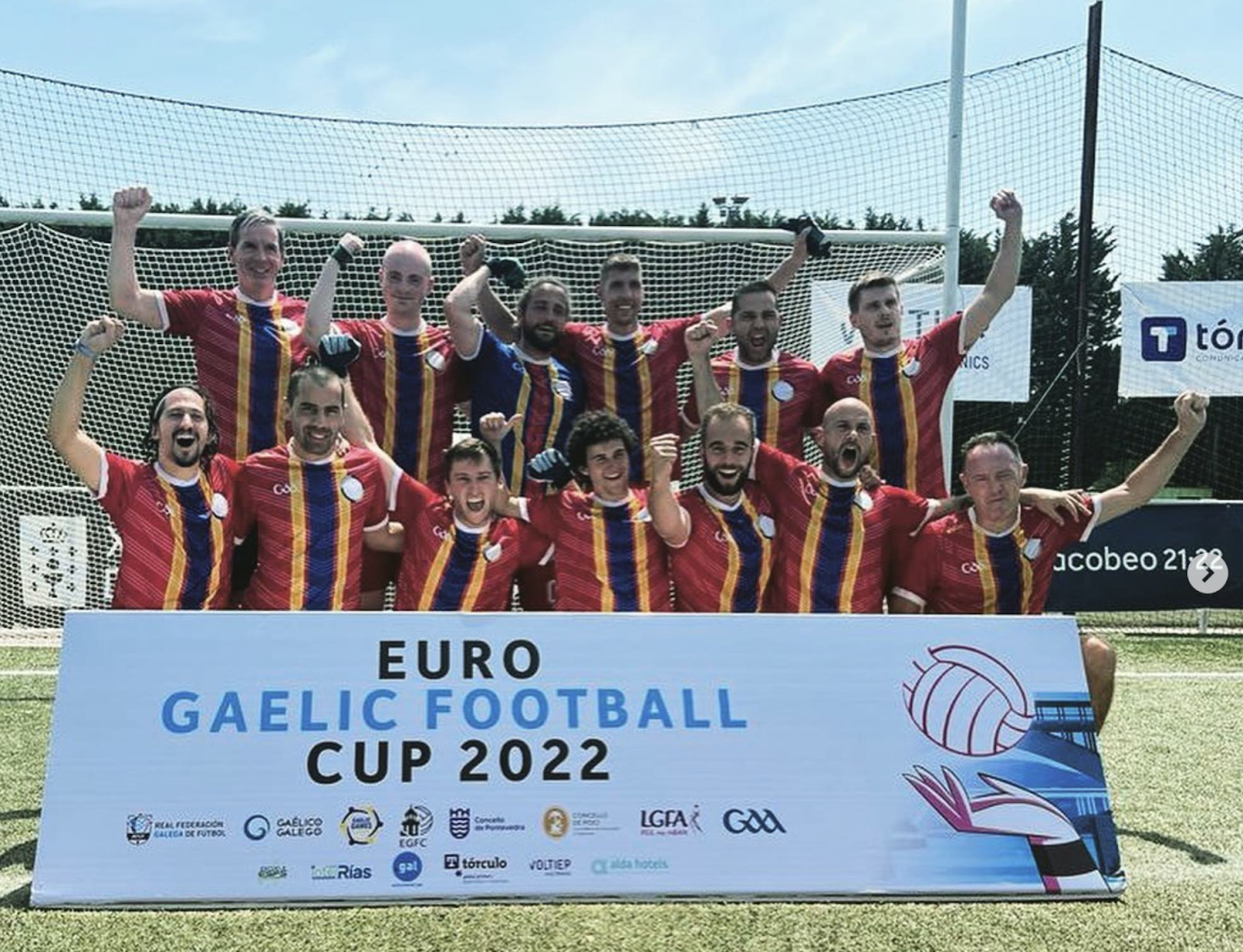 4 Celtiberos in the 2022 Iberian Team: John Gilsenan (top, left), Sean Croke,(top, 2nd left) Aidan Sousa Murphy (bottom, 2nd left), Jon Burke (bottom, right)
Last year a few of us headed to Cáceres in Spain for the Fleadh in Samhain, this year we returned with an even bigger crew and were joined by players from Eire Og Sevilla, Madrid Harps and Costa Gaels. Local kids joined us from the Cáceres Rugby Club and a few games were played, followed by a poc fada. There was plenty music, dancing and craic. About 30 of our club made the trip from Lisbon and the overall GAA crew was over the hundred mark. We also appeared in our first official GAA article about the weekend, written by the head of the Iberian GAA Federation, Justin Parks: Iberia GAA tournanment a big hit at Caćeres Fleadh. All going well, there will be more of us in 2023 and soon Cáceres will have their own GAA club.
The end of November saw our first competitive game in the Gibraltar tournament, round 2 of the Andalucia 7's Tournament. 10 men and 4 women travelled down. The lads went on and won their tournament, winning 3 and losing 1. The women teamed up with Gibraltar, but more work is needed. A massive victory for the club, there will be the next game in Seville early February, then the final will be in Lisbon on Saturday the 4th of March. Hopefully we will get to start the Paddy's Day celebrations early in 2023.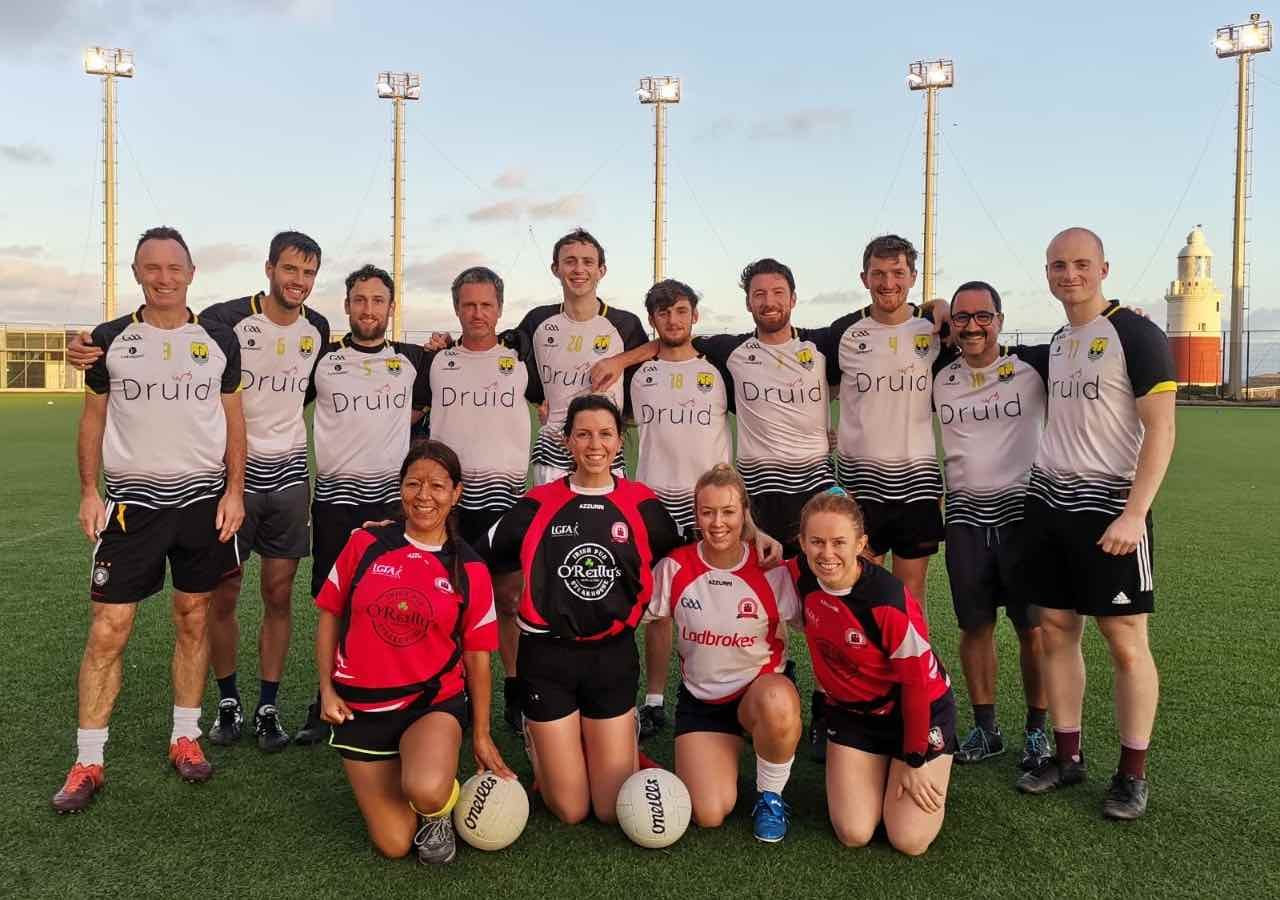 Lisbon Celtiberos, Gibraltar 7's 2022. Back Row, L-R: Jon Burke, Jamie O'Sullivan, Patrick Colgan, Duncan Crowley, Sean Twiss, Jon Dunne, Alan Armstrong, Eoin Keogh, André Lopes, Seán Croke. Front Row, L-R: Tania Landeo, Claire McGrath, Claire Kelly, Sarah Robinson.
Apart from those big games, we had our weekly training sessions in our adopted home ground of OIS, Oeiras International School, in the Bacarena Valley, just up a bit from Caxias train station. At some stage, Coach Aidan brought a little cup along for the "Monthly Match", teams were picked by the 2 captains and they all went off to battle. Patrick Colgan and his team were no match for Claire Kelly and her team. And with that the #KellyCup was born.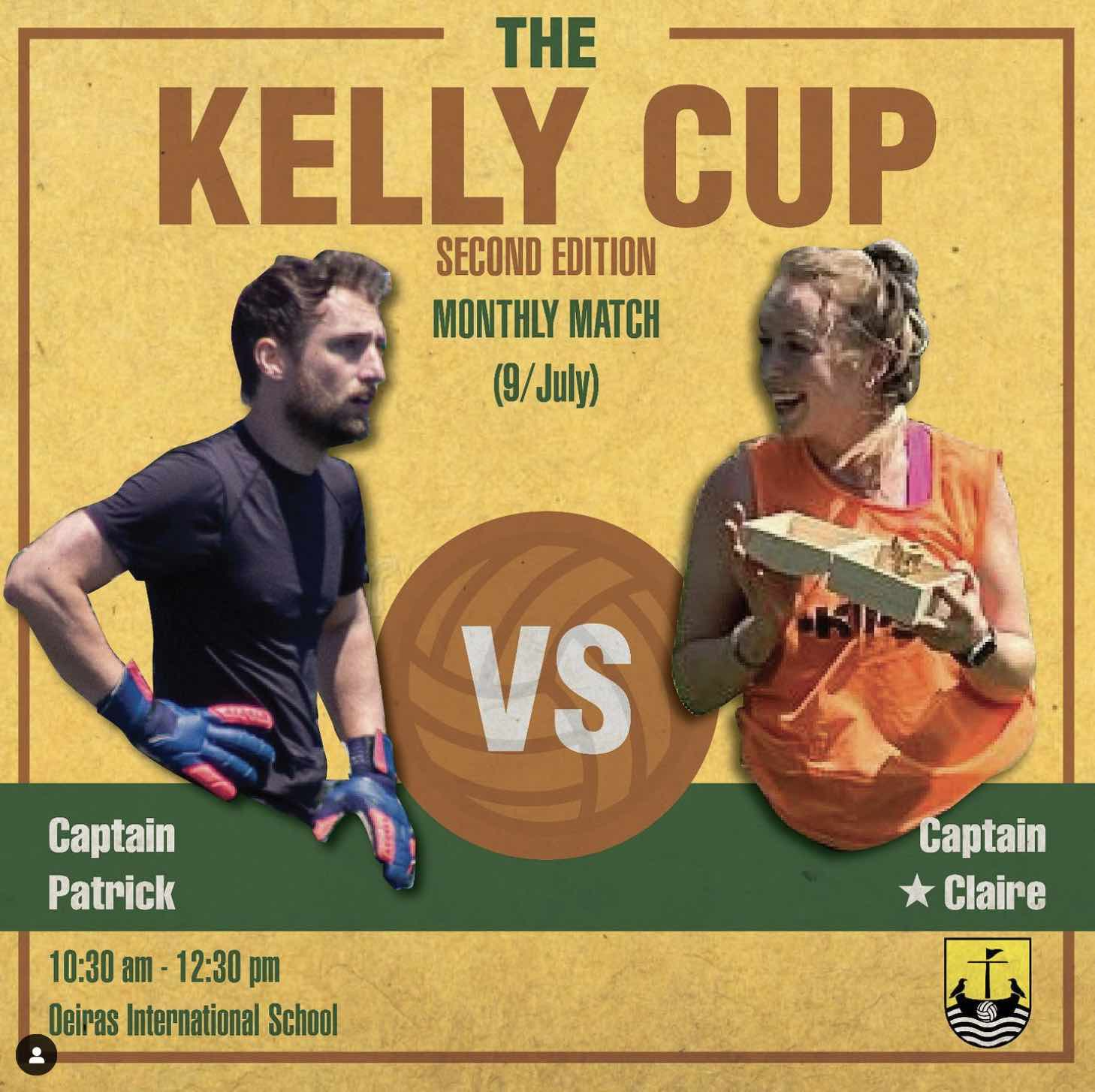 The Kelly Cup (Artwork: Leonella Rodríguez Dotti)
Off the field, there was just as much activity. With people drifting in and out of the club, it's hard to tell just how many have joined this strange little gang. While playing football might not be for everyone, our little community continues to open its arms to all who wish to come in, muck in and help move things along. Since COVID, there have been people from 20+ nationalities, from distant corners such as India, Mexico, Palestine, Jamaica and Ukraine. Even a lad from Monaghan for a while... But as Kerry Eoin says from day 1: "Points, then pints", a lovely social scene has grown and deep bonds have formed. The Irish emigrant story is a long one, and we're good at making a new family wherever we go, but here in Lisbon, it's great to see the many colours, creeds, languages and countries that make up our little familia.
We were also active in the digital world, nearly winning the "Jersey World Cup" and appearing on "Slice 53" of Loaf of Bread GAA Podcast, where Mullingar man Jason Keelan spoke with some of our club, including Luana (Brazil), Hugo (Portugal), John (Cork) AND THE MYSTERY GUEST – an All-Ireland winning member of the @OfficialCorkGAA. If you're not sure who it is, you will have to listen to the podcast here. At the end of the year, some more of our club had a 3 way language Youtube chat with the Galician GAA community.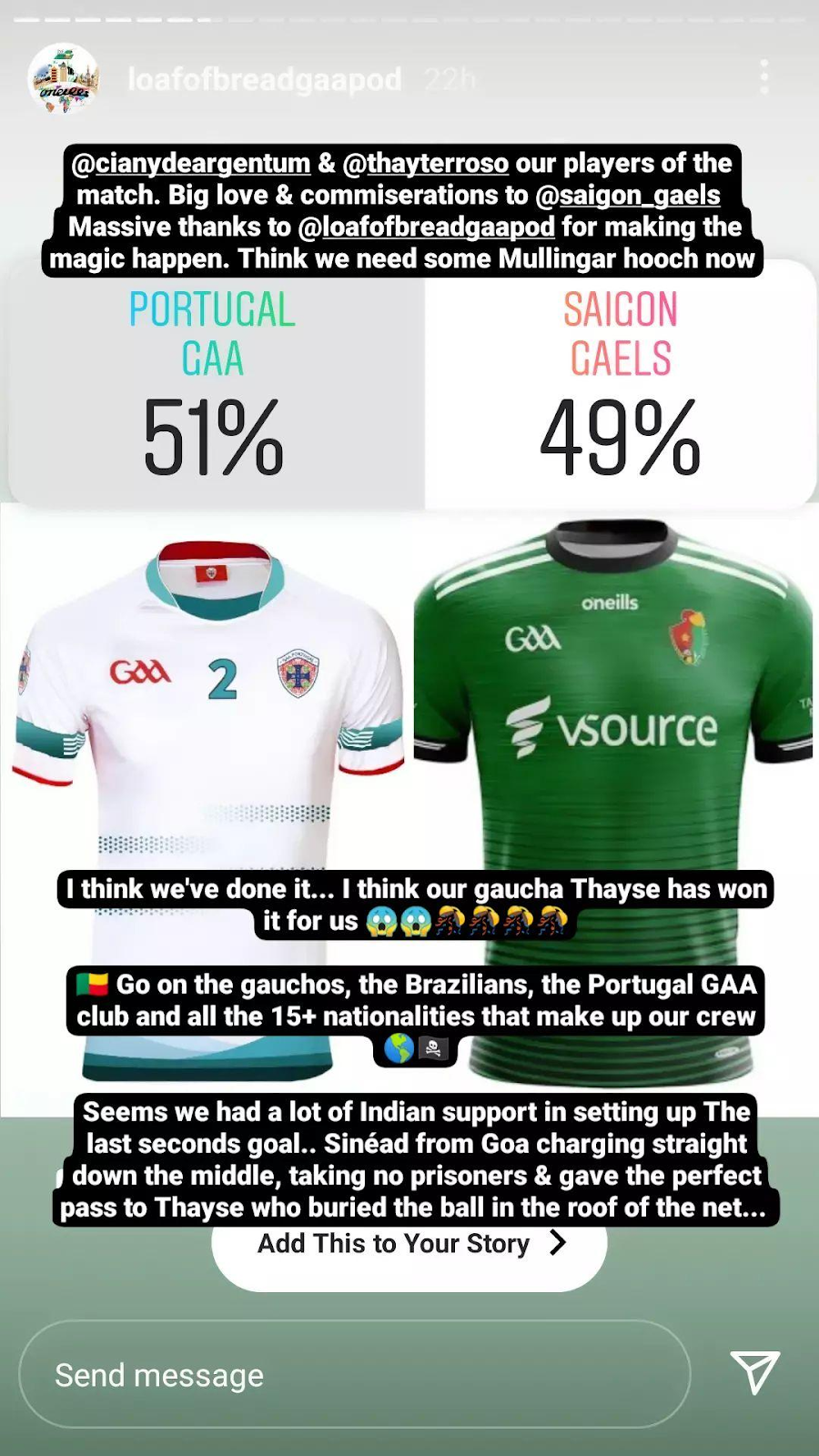 Portugal battled well in the Loaf of Bread "Jersey World Cup"
As Irish ambassador Ralph Victory said when he spoke at our last AGM... "Aim high", well we're certainly doing that. A lot of work goes into making the club, so a big thanks to all who have risen up to take on the challenges. We hope to just keep going the way we are, get a few more women and men involved and hopefully we will be able to put out a full women's team in March.
We would like to take this opportunity to thank our sponsors Druid Sports Management and O'Gilin´s Bar who have continued to support our growth since the club's inception in 2017.
Here's to another great year.
Lets try to get the city behind their team in 2023...
Hon Lisbon, Hon Celtiberos, Hon the Pirates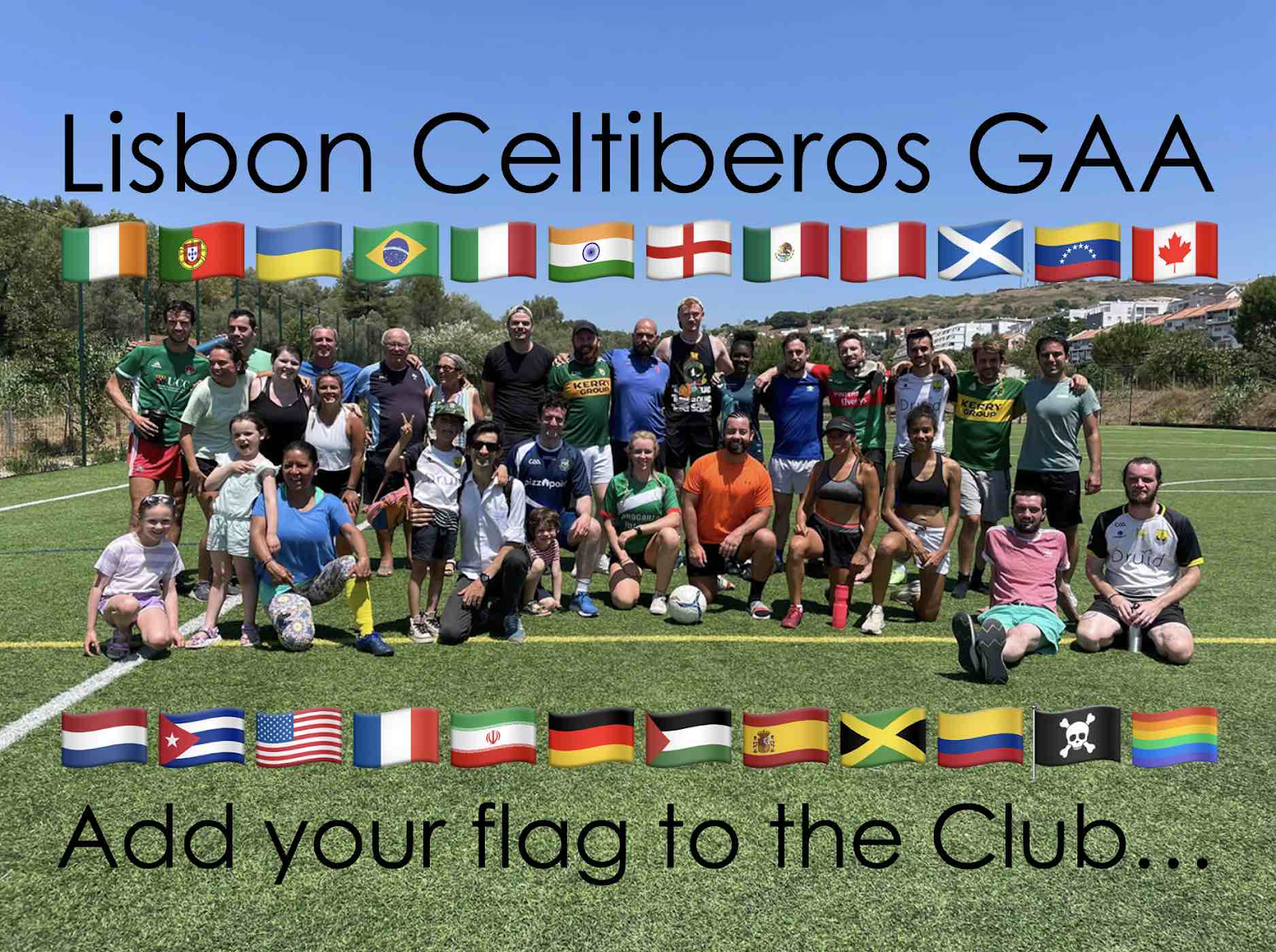 Lisbon Celtiberos GAA - Add your flag to the Club…
***
The gang of 2022.
https://www.facebook.com/media/set?vanity=gaapt&set=a.3671426559751020
Gibraltar Tournament - November 2022
https://www.gaa.pt/news/gibraltar-tournament---novermber-2022/
Iberia GAA tournament a big hit at Caćeres Fleadh
https://www.gaa.ie/news/iberia-gaa-tournanment-a-big-hit-at-caceres-fleadh/
Lisbon Shield Tournament - 2022
https://www.gaa.pt/news/lisbon-shield-tournament----2022/
Saint Patrick's Festival 2022
https://www.facebook.com/media/set/?set=a.3442520299308315&type=3

Lisbon win emphatically in Gibraltar – Andalusian GAA Tournament #2 (John P Brady from Celta Málaga GAA)
Europe Gaelic Football Cup takes place in Galicia this weekend
https://www.gaa.ie/football/news/europe-gaelic-football-cup-takes-place-in-galicia-this-weekend/
Video: Euro Gaelic Football Cup 2022 (Saturday)